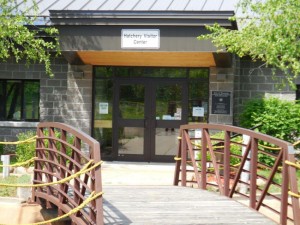 Physical address / mailing address / GPS location:
Gov Tommy G. Thompson Hatchery
951 West Maple Street
Spooner, WI 54801
Phone:
715.635.4147
Hatchery Manager Angelena Sikora: 715.635.4149
Northern Region Headquarters: 715.635.2101
Visitor Hours:
8 am to 3 pm Monday through Friday
We offer guided tours at 10 am and 2 pm on Tuesdays and Fridays from Memorial Day to Labor Day. Call if you would like to schedule a tour at a different time. Hatchery tours are FREE! Plenty of parking. Make it a day and bring a picnic to enjoy in the attached Spooner Memorial Park.
Enter the hatchery from Highway 70 across from DNR Northern Region Headquarters or enter the Spooner Memorial Park from Hwy 253/63 on the east (across from Tony's). The Hatchery grounds are immediately adjacent to the park. You can reach the building by walking along the path next to the water.