Our Mission
Increase conservation awareness through educational programming, outdoor exploration and exhibits at the Governor Tommy Thompson Hatchery.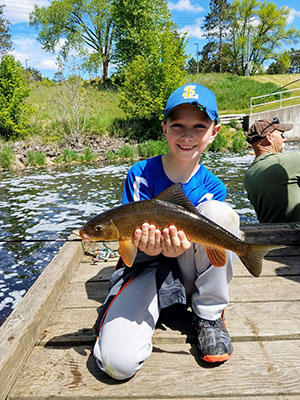 FISH's Annual Free Fishing Day June 1, 2019
Free Fishing Day
June 1, 2019
Spooner Hatchery
9 am to 11 am
Plan to attend the Annual FISH Free Fishing Day on June 1, 2019. Everyone is invited to this event hosted by the Friends Into Spooner Hatchery. It will be held at the Gov. Tommy G. Thompson Hatchery, 951 W. Maple St, Spooner, WI, from 9 – 11 am.

Although the focus of Free Fishing Day is kids, everyone is invited to attend. It's an excellent way for beginner anglers of any age to learn the lifetime sport of fishing. We supply all the bait and tackle, so just bring yourself! FISH volunteers will be on hand to help.

Kids, bring your adult
Children must be accompanied by an adult and can participate in games, tours, fishing and outdoor fun. Cookies and lemonade will be served. No fishing licenses are required on the statewide Free Fishing weekend, June 1 and 2.

The Hatchery is just a short distance from the Family Festival held at the Washburn County Fairgrounds, 8000 Beaverbrook Ave, Spooner.